The Rollga is an 18-inch foam roller uniquely designed with contours to avoid your bones and tendons while rolling. In addition, the contours allow for cross-directional pressure enabling you to target trigger points that are often difficult to reach with ordinary foam rollers. Tight knots along the shoulder blades anyone? How about that pesky piriformis tightness? Given it's innovative design, I was intrigued to see how different the Rollga Foam Roller can be compared to the old reliable foam rollers I've been accustomed to over the years.
Available in three different foam densities (soft, standard, hard), the Rollga foam roller is made of professional grade heat treated EPP foam that is easy to clean, ultra lightweight, water-resistant, and capable of holding over 2000lbs. Unlike most foam rollers that have 1-year (low-density foam rollers) or 2-year (high-density foam rollers); all Rollga foam rollers come standard with a lifetime-limited warranty.
As fitness enthusiasts and Brazilian jiu-jitsu practitioners, our muscles will often tighten up from hours of lifting, pulling, and grappling. If you haven't tried foam rolling before or know what the benefits are; in a nutshell, it is a product intended to stretch those affected muscle fascia in order to increase mobility, speed muscle repair, and increase circulation of oxygen-rich blood to regenerate damaged tissues. If you haven't tried foam rolling before, it is similar to that "hurts so good" feeling you experience from deep tissue massages. With consistent use, it will help you recover quicker and each subsequent rolling session will result in less pain as your fascia become more elastic and knot-free.
Design
In the world of self-myofascial release, you'll hear a lot about muscle fascia and connective tissue. Unfortunately—due to design—most foam rollers are unable to get deep into the bony areas of your shins and shoulders blades. I don't know about you, but often those are the exact areas I need some serious relief in! The design of the Rollga is the secret to its effectiveness for these regions.
The cross-directional design is intended to provide "relief zones" that allows you to bypass bony protrusions and reach deep within the muscle tissues that are often hard or impossible to reach with the traditional foam roller. This allows you to freely roll the 18-inch Rollga over your muscles while the contours protect your spine, shins, and hips. For example, I was able to hit the trapezius coming in behind the shoulder blades at a 45-degree angle. Previously, I was only able to target the trigger points this area by using a lacrosse ball.
The contours are numbered 1-4, vary in depth, and are intended for different applications. The user guide and videos often refer to the numbers for ideal positioning. Depending on the angle and position you roll from, the contours enable fascial shearing and muscle displacement to increase recovery of exercise-induced fascia damage. To be honest, I found it a bit confusing and just copied the way the instructions was showing for specific muscle groups or kept rolling it in different directions until the 'hurt felt right'.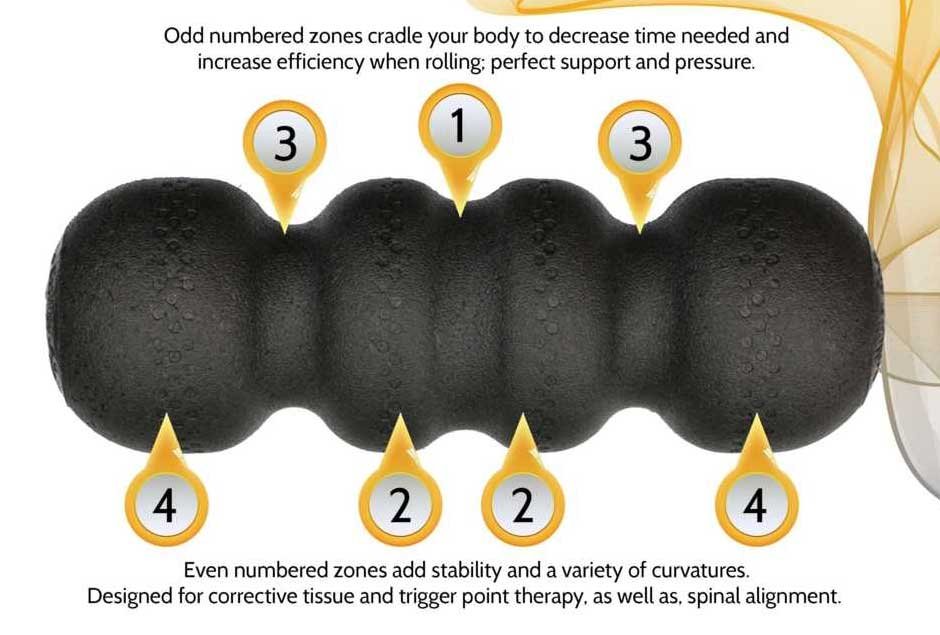 Conclusion
After months of extensive testing and usage, the hard foam Rollga has become my go-to foam roller. I've been using it for muscle activation (pre-workout), muscle recovery (post-workout), and for functional restoration of movement. The unique design has been outstanding in hitting the trigger points in hard-to-reach areas while reducing (though not eliminating) the need to get in awkward positions you normally would have to do.
Since their purchase in April 2019, my black hard foam Rollga has shown minimal wear and still looks new. Similarly, Michelle's preferred white soft foam Rollga has maintained its shape and remains in great condition. In addition to its durability, the Rollga foam rollers are remarkably lightweight and has been a welcome addition to our gym bags. Based on my scale, the weight are as follows: Soft at 4.5 ounces, Standard at 6.375 ounces, and Hard at 8.5 ounces.